05 juin 2008
G'day to All!!!
Please, allow me some time to translate in English as it takes a lot of times.
Have you finish your studies or want to achieve them overseas?Are you looking to make a big change in your life or career?
I will help you to make your decision to discover Australia.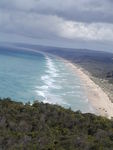 You will not only discover beautiful landscapes, but although a lot of opportunities for work or studies (every year, Australian government allow people to settle, applying on a skill background) associated with a simple and paradisaic way of life (surf, beaches, sun,...).
You also can travel around Australia with a camping van,working in the fruit picking area (4 months and you're entitled to another working holiday visa) for the all year, don't forget that Australia is 14xbigger than France.
I'm actually living in the Sunshine Coast, at Noosa (about 100k North of Brisbane). It's been 2 years and half since my first arrival in Australia, with a working holiday visa.
I obtained my permanent residency a year ago, applying for a de facto visa (partner visa).
If you'd like to have more informations or some help regarding the famous kangaroos country, do not hesitate to contact me, i will do my best to help you.
Talk to tou soon,
Aurelie (lily)
Commentaires sur Welcome everybody